Eastsound Amenities, Location and Activities
(If your business is not listed below and you would like it to be, or if you see out of date or incorrect information, please contact us.)
Eastsound, Washington, is the main village on the horseshoe-shaped island of Orcas, the "Gem of the San Juan Islands," in northern Puget Sound. With close proximity to Moran State Park (Washington's 4th largest and arguably best  – with extensive hiking trails, great fishing and camping), Orcas Island Airport is centrally located within the island as a whole. Eastsound is an optimum choice for a "base camp" for a vacation to these scenic and pastoral islands. The village has world-renowned restaurants, quaint shops, delectable bakeries, cozy lodgings, and an array of recreational opportunities, including sea kayaking, bike touring, and much more.
The red line marks the path from the Airport to Eastsound Village.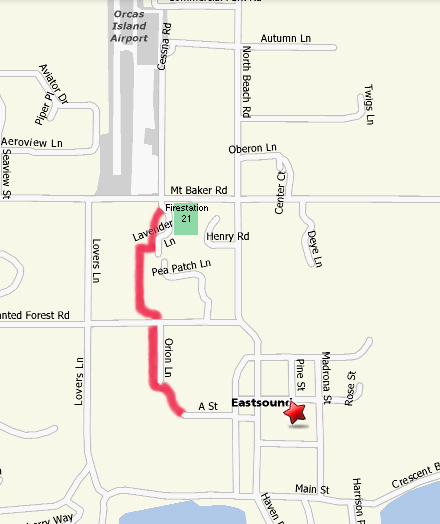 Follow the "Public Path" signs at the South end of the Airport.
It is about a 0.7 mile walk from the terminal or 0.3 miles from the South tiedown area.
For information about Eastsound stores and amenities, see the Chamber of Commerce website.  We are excited by our new Scenic Byway and newly designated San Juan Islands National Monument.
Health Centers and Emergencies
Emergencies: Call 9-1-1 …… From a cell phone call: 378-4151
Orcas Fire station #21, 360-376-2331 (business number) – across the street from the airport.
Health Centers – closest to the airport listed first:
Island Hospital Clinic – Orcas Island 360-299-1300 – Located at 7 Deye Lane (1269 Mt. Baker Road), approx. 1/4 mile East of the airport.
Local B&B's, Hotels and Marinas
Closest to the airport:
Kangaroo House Bed & Breakfast
(360) 376-2175
1-888-371-2175
1459 North Beach Rd
Eastsound, WA
Smuggler's Villa Resort and Marina
800-488-2097
(360) 376-2297
North Beach Road,
Eastsound, WA

The Landmark on Orcas Island
(360) 376-2423
67 Main Street
Eastsound, WA 98245
email the Landmark at manager@orcasisland-landmark.com
Outlook Inn
(360) 376-2200
1-888-OUTLOOK
171 Main Street
Eastsound, WA
Also near town:
Inn At Ship Bay
877-276-7296
326 Olga Road
Eastsound, WA
Other B&B's-Hotels:
Anchorage Inn
360 376 8282
249 Bronson Way
Eastsound, WA
Blue Heron Bed and Breakfast
360-376-4198
fax: 360-376-4198
982 Deer Harbor Road
Eastsound, WA
Buck Bay Farm Inn & Lavender Field
360-376-2908
888-422-2825
fax: 949-528-1700
716 Pt. Lawrence Rd.
Olga, WA
Deer Harbor Inn
360-376-4110
877-377-4110
fax: 360-376-2237
33 Inn Lane
Deer Harbor, WA
Double Mountain Bed & Breakfast
(360) 376-4570
P. O. Box 614
Eastsound, WA
Kingfish Inn
360-376-4440
4362 Crow Valley Rd.
Eastsound, WA
Old Trout B & B
360-376-7474
5272 Orcas Road
Eastsound, WA
Orcas Hotel
at the Orcas Ferry Landing
360-376-4300
Otters Pond Bed and Breakfast
360-376-8844
888-893-9680
fax: 360-376-8847
100 Tomihi Drive
Eastsound, WA
Pebble Cove Farm
360-376-6161
3341 Deer Harbor Road
Eastsound, WA
Spring Bay Inn on Orcas Island
360-376-5531
fax: 360-376-2193
PO Box 97
Olga, WA
The Inn on Orcas Island
360.376.5227
888.886.1661
fax: 360.376.5228
114 Channel Road
Deer Harbor, WA
The Place at Cayou Cove
(360) 376-3199
888.596.7222
fax: (360) 376-3852
P. O. Box 310
Deer Harbor, WA
Turtleback Farm Inn
Crow Valley Rd
Eastsound, WA
(360) 376-4914
Marinas
Deer Harbor Marina – (Also this website) – (360) 376-3037
Outer Island Expeditions – Charters, Whale Watching, Fishing, Water Taxi, Etc. – (360) 376-3711 or underway at (360) 622-6562
Local Real Estate Listings & Brokers
Multiple Listing Service, San Juan Islands
Cherie L. Lindholm Real Estate
360-376-2202
Coldwell Banker Orcas Island
360-376-2114
Gudgell Properties
360-376-2172
Offshore Properties
360-376-8823
360-376-5166
Orcas Dreams Island Properties
360-376-6396
Orcas Island Realty LLC
360-376-2145
Sotheby's International Realty
1-800-258-3112
Windemere Real Estate-Orcas Island
360-376-8000