In Short:
The Port of Orcas is seeking applicants to fill a pending vacancy for the position of Airport Manager of the Eastsound Airport.  The Port will complete a Master Plan in early 2019 that will re-designate the Airport Reference Code (ARC) from B-I-Small to B-II with significant future projects required and envisioned to achieve compliance.  The successful candidate will be prepared to initiate, manage and direct those changes needed over the next 20 years.  The Airport Manager's Salary is $55,000-80,000 annually commensurate with qualifications and experience.  Additional information regarding the position is available at www.portoforcas.com.  Applicants are asked to submit a resume, cover letter and 3-5 professional references with contact information to Port of Orcas, PO Box 53, Eastsound, WA 98245 or orcasairport@rockisland.com no later than January 31st, 2019.
PORT OF ORCAS – AIRPORT MANAGER
The Port of Orcas is seeking an Airport Manager to live and work on beautiful Orcas Island, the Gem of the San Juan's in Northwest Washington.  The Port is completing a Master Plan in early 2019 that will re-designate the Airport Reference Code (ARC) from B-I-Small to B-II with significant future projects required to achieve compliance.  As an island airport, the airport is an essential public facility important to the community of 5,000 and has traditionally competed well for Airport Improvement Program (AIP) funding.
The Airport Manager is the Chief Executive for the Port of Orcas and is responsible for all aspects of planning, operation and maintenance of the Orcas Island Airport (KORS).  The Airport is a Commercial Services and General Aviation Airport served by several 14 CFR Part 135, On-Demand and Scheduled Commercial Operators.  Since its inception in 1958, the Port has exclusively operated the airport, but seeks opportunities to expand into marine or commercial real estate operations to support economic development.  The Manager currently supervises one employee and acquires additional services and maintenance through on-going and project-specific contracts.  As such, the Manager is routinely and intimately involved in day-to-day activities to operate and maintain the airport.
Reporting directly to the Port Commission and supervised by the Chairperson, the Manager is given significant authority, commensurate with experience and qualifications, to direct most decisions related to airport operations including daily, normal maintenance and operation of the airport, following written policies where applicable, and keeping the commission informed as requested.   Direction from the commission varies from specific instructions to general direction, depending on the activity.
This is a full-time, exempt, salaried position based on a nominal, 36 to 40 hour work week, four to five weekdays per week. As an attended airport, working hours should generally mirror normal business hours.  Variations to this schedule may be necessary due to seasonal surges or other activities requiring the on-site presence of the manager or travel to attend training or conferences.   When available locally, the Manager is expected to respond to emergencies and other urgent airport matters after regular hours.
The Airport Manager's Salary is $55,000-80,000 annually commensurate with qualifications and experience.  Applicants are asked to submit resume, a cover letter and 3-5 professional references with contact information to Port of Orcas, PO Box 53, Eastsound, WA 98245 or orcasairport@rockisland.com no later than January 31st, 2019.  Additional information regarding the position is available at www.portoforcas.com.
RESPONSIBILITIES
Supervises any and all hourly and salaried staff
Serves as Port's Financial Officer and Accountant with support of San Juan County Auditor and Treasurer
Supervises, inspects and maintains as appropriate airside and landside areas of the Airport
Manages and negotiates leases of airport facilities
Implements Small Works procedures for maintenance or construction projects
Provides Subject Master Expertise to the Commission on strategic planning and future development of the airport and coordinates with the FAA and WSDOT
Serves as Port's Public Records Officer
Serves as Port's Administrative Officer
Maintains professional relationships and communications with customers, Port commissioners, regulatory agencies, other public entities and members of the public
Currently the Airport staff consists of the salaried, full-time, airport manager and a 22-hr/wk, part-time, assistant/facilities manager.  However the Commission has discussed and is considering expanding the staff to 3 personnel in various configurations.  All configurations envision the airport manager remaining a full-time, salaried position and increasing the current assistant/facilities manager to full or nearly full-time.
Hangar for Rent
Large Hangar for Rent at KORS.  Measuring 76' Wide by 60' Deep, the hangar has a bi-fold door with a clear opening of 70'Wide by 20' High.  The hangar is insulated and dry-walled inside.  There is a large ramp in front of the hangar and it has easy access to the airport "through the fence" (although it is inside the airport wildlife fence).  Electricity for occasional use is included in the rent on a common meter with the adjoining house (not included in lease).  Rent is $2,000/mo.
Please contact Mr. Parnell for more information.  mparnell@rockisland.com or 360-376-6355
Meeting
The Next Regular Meeting of the Port of Orcas Commission is scheduled for Thursday, January 10th, 2019 at 4:30 PM at Airport Conference Room.
Noise Abatement
Pilots – This last summer saw a modest increase in both formal and informal noise complaints.
I would ask you to please review and comply with our attached noise abatement procedures when conditions permit. (http://dev.portoforcas.com/wp-content/uploads/2014/01/NoiseAbatementBrochure.pdf )
To summarize and points of emphasis:
1- No turns after takeoff until either 1,100' MSL or 1 Mile off-shore (whichever occurs first)
2- Cruise above 1,500' AGL
Please avoid (a) arrivals at low altitude or (b) early turns to climb out … that overfly Fowler's Cove (the old log dump, Indralaya, etc.), Crow Valley, or Cascade Lake/the Highlands below 1,500' AGL.
The brochure is perhaps unrealistic in expecting no flight through Crow Valley, but would ask you to avoid doing so at low altitude (i.e. deviate towards the gravel pit instead of direct to Crescent Beach or Indian Island to/from West Sound).
For more information regarding the Airport Master Plan click here.
PRESS RELEASE: Orcas Island Airport Improvements to Meet Air Safety Requirements While Minimizing Undesirable Effects on the Local Community.
Eastsound, Washington, July 10, 2018
The Port of Orcas is currently preparing a master plan for Orcas Island Airport that will guide the direction of projects to bring the airport into compliance with safety standards for existing airport operations and to provide for the future needs of island residents and visitors over the next 20 years.
Because public involvement is a very important aspect of this process, the Port will hold a special commission meeting on July 26th at 3:30PM at the Eastsound Fire Station to hear public comment and answer questions and concerns.  To facilitate addressing these questions and concerns fully, accurately, and efficiently, please email detailed questions about the process and concerns to orcasairport@rockisland.com
The Orcas Island Airport master plan will present the short-, mid-, and long-term needs for the airport.  After the plan is completed an environmental document must be prepared to comply with State and Federal environmental regulations. Based on conversations with the FAA, it is anticipated that the projects may require an Environmental Impact Statement, which is the most extensive federal regulatory process.
The intent of the master planning process is to obtain information on the desires of the community and of those most affected by the airport.  The master planning process seeks to identify the present and future needs of the community for its airport and ability to meet FAA standards and to suggest reasonable methods for meeting those objectives. The FAA requires that the Airport document a plan to guide future operations.
In its present configuration, Orcas Island Airport does not meet the safety standards required to service aircraft currently using the airport such as the Cessna 208B Caravan.  Cessna Caravan operations make up a large and significant share of the air traffic serving Orcas Island.  Operators of regularly scheduled passenger and cargo flights to the island fly the Caravan because of its safety, dependability, and efficiency over the routes they commonly fly.  In developing alternatives that will bring Orcas Island Airport into compliance with operations already being conducted there, every attempt has been made to make the best use of existing airport property and facilities while minimizing the undesirable effects it may have on its neighbors.
While several alternatives have been proposed to comply with current safety standards while meeting the needs of the community, none of those alternatives includes any expansion of the airport to serve airplanes larger than those that have already been operating there for years.  No such expansion has been planned or contemplated.
Since January of this year, two open-house public meetings have been held locally to solicit input from the community regarding its desires for the airport. The comment period is being extended through August 3, 2018 to allow for additional input regarding the preferred development plan. To eliminate confusion regarding the alternative options, additional information will be provided on the project website ( http://www.portoforcas.com/master-plan/ ) and to the project contact list by July 16, 2018 to better explain FAA requirements and safety standards and to explain the alternative options.
All comments received by August 3, 2018 will be considered in development of the preferred alternative. A public open house will be held in September for the public to review and comment on the preferred alternative.
For more information about the project, the alternative options, and the project schedule please visit http://www.portoforcas.com/master-plan/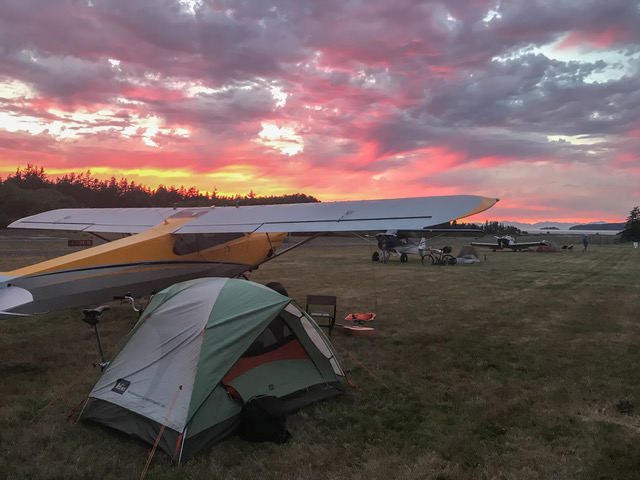 Your camping view may vary!
Hangar 16
Hangar 16 may be available for rent.  It is approximately 48×48.  Contact Andre Souang at andre@sabinefinancialservices.com or 360-472-0473.
Island Air Ambulance is a service of Island Air, a local company which has been providing aviation services to San Juan County for over 25 years.  Island Air recently created the Air Ambulance Membership Program as an affordable way for island residents and visitors to be sheltered from out-of-pocket costs that could be incurred from the flight portion of an emergency medical transport on one of their fixed-wing, air ambulance aircraft.  If you would like more information, please see their website at www.islandairambulance.com, call 360-378-2376 or email membership@islandairambulance.com
Oil
If you need a quart of oil (or 12) at Orcas, you can now buy it from your friendly airport manager.
$10/quart for Aeroshell 80W or 100W
$8/quart for Phillips X/C 20W50
Tax included.
Biplane, the Sequel!

Bikes for free use (donations encouraged)



We have bikes for use free of charge near the fuel pumps.  The last 4 of our CTAF will open the lock.  Please take the lock with you and use it…and bring the bike and the lock back.  If you like these bikes,

donations are accepted

in the fee boxes or the Port office.  We don't have helmets but encourage you to use one.
Annotated Nautical Chart of Island Flying References
San Juans (Annotated) Nautical Chart pdf
Phone-Sized Ferry Schedule
I put this here because I think some visitors to this website might appreciate a "cut-down" version of the ferry schedule that can be read easily on a phone.  This is why I started making it in the first place.
Need Power!!
— We now have a small 12/24V GPU (with both alligator clamps and a NATO plug) for "jump-starting" an airplane.  Stop by or call the office when needed.  After hours, call the Airport Manager's Cell phone (the number is on my business card which is in a dispenser by the conference room door).  Based on the limitations of our insurance, use is at your own risk.
New and Noteworthy:
A recent visitor's trip report — you can't buy a review like this!
If you have airport pictures you would be willing to share, please email them to me at orcasairport@rockisland.com.