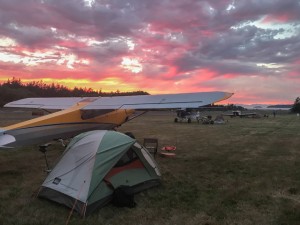 Your camping view may vary!
Obstruction Removal Final Environmental Assessment
On February 22, 2017, the US DOT, FAA issued a Finding of No Significant Impact (FONSI) for proposed Obstruction Removal at the Orcas Island Airport.  The proposed Obstruction Removal will remove vegetation within the visual approach surface to Runway 34 at the airport in Eastsound, WA.  The FONSI is posted at the airport terminal at 147 Schoen Ln and on the Port of Orcas website here: FONSI – Obstruction Removal EA – signed.  The report will be available for review for a minimum of 10 days.
Island Air Ambulance is a service of Island Air, a local company which has been providing aviation services to San Juan County for over 25 years.  Island Air recently created the Air Ambulance Membership Program as an affordable way for island residents and visitors to be sheltered from out-of-pocket costs that could be incurred from the flight portion of an emergency medical transport on one of their fixed-wing, air ambulance aircraft.  If you would like more information, please see their website at www.islandairambulance.com, call 360-378-2376 or email membership@islandairambulance.com
Oil
If you need a quart of oil (or 12) at Orcas, you can now buy it from your friendly airport manager.
$10/quart for Aeroshell 80W or 100W
$8/quart for Phillips X/C 20W50
Tax included.
Biplane, the Sequel!

Bikes for free use (donations encouraged)



We have bikes for use free of charge near the fuel pumps.  The last 4 of our CTAF will open the lock.  Please take the lock with you and use it…and bring the bike and the lock back.  If you like these bikes,

donations are accepted

in the fee boxes or the Port office.  We don't have helmets but encourage you to use one.
Annotated Nautical Chart of Island Flying References
San Juans (Annotated) Nautical Chart pdf
Phone-Sized Ferry Schedule
I put this here because I think some visitors to this website might appreciate a "cut-down" version of the ferry schedule that can be read easily on a phone.  This is why I started making it in the first place.
Meeting
The next regular meeting of the Port of Orcas Commission is Thursday, July 13th, 2017 at 4:30 PM in the terminal conference room.
Need Power!!
— We now have a small 12/24V GPU (with both alligator clamps and a NATO plug) for "jump-starting" an airplane.  Stop by or call the office when needed.  After hours, call the Airport Manager's Cell phone (the number is on my business card which is in a dispenser by the conference room door).  Based on the limitations of our insurance, use is at your own risk.
New and Noteworthy:
A recent visitor's trip report — you can't buy a review like this!
If you have airport pictures you would be willing to share, please email them to me at orcasairport@rockisland.com.